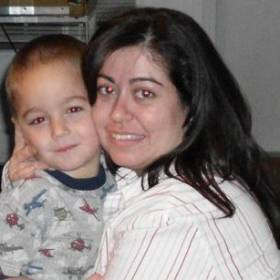 Annette Gregorio
In United States , Florida
Service and Affiliation: 0 years of service

What do you like best about your involvement in education?
---
At this moment, my involvement in education is very limited. I will be starting my student teaching on January of 2014. I am currently waiting and each day I am getting more excited. Teaching has been a dream of mine for a very long time. I am currently reading professional journals, teaching magazines, and exploring new ideas and anything new that will benefit my career.
How I spend my free time
---
I am currently reading on student teaching, brain based learning, and my favorite fiction authors. My husband and I also raise guinea pigs and have a different farm animals on our property. While not focusing on my teaching future, you will see me around the farm, with my son who is seven years old and soon I will be also writing on my new blog (which is a new adventure).
Current books on my nightstand.
---
The Longest Ride by Nicholas Sparks and Effective Teaching, Successful Students by Dr. Donna Wilson and Marcus Conyers
I'd like to meet
---
Dr. Donna Wilson would be one of my choices. I would like to speak to colleagues that have my same interests in education and brain based learning or educational neuroscience.
Topics or areas of interest
---
Brain Based Learning and Teaching, Educational Neuroscience, Reading and Math Strategies (like The Daily 5 and CAFE)
Are you engaged in other professional learning communities?
---
Edutopia, University of Phoenix Alumni Association, Association of American Educators, and Edublogs (my blog). I am interested in joining Mind Matters and other communities that have a focus on brain based learning.
My Role(s) in Education
Teacher / Educator / Professor
Grade(s) I'm Involved In
Pre-Kindergarten
Kindergarten
First Grade
Second Grade
Third Grade
Fourth Grade
Fifth Grade
Subject(s) I'm Interested In
ESL / ESOL
Foreign Language
Health / Physical Education / Life Skills
Language Arts (reading, writing, literature)
Math
Other
Professional Development
Science
Social Studies
Special Education
Student Wellness
Technology (computer science)
The Arts (art, music, performing arts)
Title I or other federal programs